Heart disease, high blood pressure, retained water, depression and Alzheimer's, all these ailments might be avoided by eating eggs.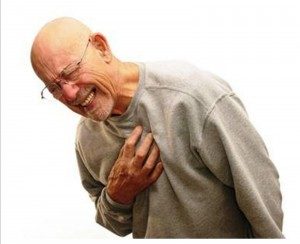 My wife Shary was sick all the time as she was growing up. Doctors gave her lots of drugs and told her that she would never be able to carry a baby full term. In college Shary began to be dissatisfied with her poor health. At a bookstore, she stumbled onto the classic, "Eat Right, Live Longer" by LeLord Kordell.4 This book started Shary thinking that her food choices, like whether to eat eggs or junk food, were more important than she had previously thought. About a year later, Shary became pregnant with our first child. When Shary went to the clinic to get her pregnancy test results, the nurse said in one sentence, "The test is positive, would you like an abortion referral?" Shary was shocked at the question, ultimately, instead of aborting, she determined to learn everything she could about having healthy babies.  This article is about eggs, whether they are good for you or not. The Bible says that eggs are a great gift and real science is catching up to that fact, after getting it wrong for a half century.
After studying nutrition in college, reading hundreds of books and articles on nutrition and listening to hours and hours of nutritional lectures, Shary and I have improved our health dramatically. But there was one giant problem, although we were seeing great improvements in our health, not everything we read worked and not all the "experts" agreed. So who can you trust? Some say milk is bad, others say it's great. Some say red meat is the worst thing you can eat, others say it is the best. Many say that eggs will spike your cholesterol and ultimately kill you and others say eggs are the perfect protein. So who do you believe, who has a corner on the truth.?
We have come to the conclusion that there is only one infallible source of information about what is good for us and what is not, it is the Bible; God's Word.
                                                      Proverbs 3:5-8                                                          Trust in the Lord with all your heart and lean not on your own understanding;             in all your ways acknowledge him. And he will make your paths straight.                              Do not be wise in your own eyes; fear the Lord and shun evil.                         This will bring health to your body and nourishment to your bones.
Secular wisdom changes almost as often as the seasons change. Self-help and textbooks change as fast as they can be printed. But…
               The Bible never changes, because                 it's advice is from God, the creator.
He says that if we trust him and his word, and don't lean on man's understanding of the world, it will bring health to our bodies. This is exactly what we have found to be true. Shary has eaten a lot of eggs over the years and never had a miscarriage. She produced thirteen healthy babies and she is still healthy herself. So what does the Bible say about egg consumption?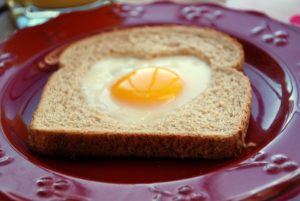 Luke 11:11 Jesus said…                                           "Which of you fathers, if your son asks for… an egg, will give him a scorpion? If you then, though you are evil, know how to give good gifts to your children, how much more will your Father in heaven give the Holy Spirit to those who ask him!"
Jesus could have used anything as an example of a good gift. But he was trying to get across the idea that our Heavenly Father will give us the incredibly good gift of the Holy Spirit. So he used an egg as his earthly example of a very good gift.
Eggs are a gift from God. Eggs are one of the best foods you can eat. Eggs are considered a perfect protein. Eggs contain all the essential amino acids in the perfect proportions so that your body can use them completely.5 If one of the amino acids is only at, say, half the necessary ratio, your body will only be able to digest and use half of the protein that you have consumed. Interestingly enough, peanut butter only has about half of the necessary amino acids needed to form a complete protein, but milk has all the amino acids that peanut butter lacks. This is why many people crave a glass of milk after eating peanut butter. 12 Your God given taste buds are detecting an imbalance in the good food you have eaten and are sending a message to your brain to balance your diet. Psalm 139:14 says, "I will praise you for I am fearfully and wonderfully made."
Shary and I have been teaching childbirth classes since 1976. Shary has also been a midwife to many, many women. Among the thousands of students we have taught; one of the most common problems in pregnancy is toxemia, which is also called preeclampsia (a self-poisoning of the mother and baby). The initial symptoms of toxemia, are high blood pressure, swelling and protein in the urine. Toxemia is very serious because the baby and mother are not able to eliminate toxins (poison) that the body normally flushes out. Standard practice to is to medicate the mother, put her on bed rest and take the baby by cesarean section.2
Toxemia is a very progressive and potentially fatal condition and remains a leading cause of miscarriage, premature birth, and infant mortality in the United States and around the world. An estimated 50,000 women die every year from toximia.4
When doctors test women for toxemia, they will take urine samples and tell the woman she has too much protein in her urine. Then she will be told to cut down on her protein intake. Actually, what they are detecting are amino acids that are being discarded by the body. Because most woman's diets are unbalanced and lack sufficient protein, their bodies will kick out the excess amino acids. The result is that their body's mechanism for ridding itself of toxins is starved. That system needs a lot of protein and it isn't getting it. Shary has been able to help virtually every mother who has come to her, by getting them to up their protein intake. How does she do it? By getting these women to eating at least two eggs every day and adding other lean proteins.  Two eggs are the best source, because eggs are a perfectly balanced protein.
Dr. Tom Brewer, the head obstetrician in a large hospital, saw over 500 babies born each year. He recorded that one third of the pregnant mothers, approximately 166 in all, had developed toxemia. In an effort to reduce the toxemia rate, he simply asked the women to eat two eggs and drink a quart of milk every day. After one year under the new plan, the hospital had only recorded two cases of toxemia. One of the women had triplets, and he thought maybe she needed to eat four eggs a day. The other patient was mentally ill and they were never sure if she had followed the instructions. By simply adding two eggs and a quart of milk to these 500 women's diets, toxemia was almost completely eradicated. 1
The March of Dimes has done extensive research to determine the cause of birth defects. As early as 1975 the march of Dimes was encouraging pregnant mothers to eat eggs, vegetables and drink milk.
The symptoms of toxemia; high blood pressure and retained water, do not just affect pregnant women. If you have these symptoms the solution is often the same, increase your protein intake, eat eggs.
But what about the cholesterol in eggs? Each year Americans spend 117 billion dollars on cholesterol testing. Isn't cholesterol bad for you?  First of all, eggs contain lecithin, which breaks down cholesterol. Also; there is good cholesterol and bad cholesterol and, you guessed it, the cholesterol in eggs is the good kind.
Eggs contain cholesterol, and cholesterol is an essential nutrient. That means that your body must have it. Your body actually makes about 10% of your daily need for cholesterol; but it must get the other 90% from your diet. According to Dr. Joel Wallach, we have created some horrible diseases in our quest to limit cholesterol and egg consumption. For example, Alzheimer's disease did not exist 40 years ago, not in any medical textbook, not in any medical dictionary. The first mention of it as a disease entity was in 1979. In the seventies we began to restrict choloresteral and immedietly we saw a new disease develop. It is a deficiency disease that effects half of all 70 year old's. It is now the number four killer of people over 65.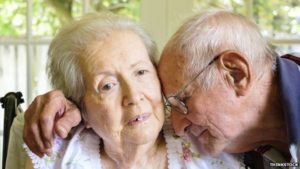 Alzheimer's is caused by a medical theory that ignores God's word. Many doctors claim that it is genetic. Now let's examine that theory for a moment. Since Alzheimer's has only occurred in the last 20-40 years, how could it possibly be genetic? Even evolutionists don't believe you can change an entire people group's genetics in 20-40 years.
The onset of this nutritional disease does coincide with the limiting of foods containing cholesterol. Fact: the brain is 75% cholesterol; by limiting the amount of cholesterol, we are starving our bodies of the materials necessary to build brain matter. According to Dr. Wallach you can eliminate any chance of getting Alzheimer's by eating at least two eggs a day. Dr. Wallach has done extensive studies with animals and was able to create and eliminate the symptoms of Alzheimer's by either limiting or increasing cholesterol in their diets. Dr. Wallach has been nominated twice for the Nobel Prize in medicine. The normal safe cholesterol level is 220-270. According to Wallach if anyone tries to get you to lower your cholesterol level below 200, run for the hills. If your cholesterol level is below 200, your risk of intracranial stroke goes up 200%, liver cancer goes up 300% and you double your likelihood of suffering from depression.
Unfortunately, my own, very healthy, parents were advised by their doctor to limit their fat and cholesterol intake, so they stopped eating eggs and butter. Shary and I tried to share with them what we have learned but they insisted that their doctor knew best. They would follow his advice and shortly after eliminating eggs, my dad suffered more and more from depression. My mother went into full blown Alzheimer's. Currently my mother is in a memory care facility, if we bring her a gift she will thank us every time she sees the gift as if it is the first time, sometimes five or six times an hour. So the only upside to all of this is that we get a lot more credit for a single gift than we used to. The down side is that she may think the gift came from one of my brothers instead of me.
Many people believe that eggs are bad for their hearts. On November 15, 1995, the American Heart Association announced a study of 141 volunteers with a cholesterol level of 227. After six months of eating two eggs per day the American Heart Association came out with this statement…
"We always assumed that eggs were bad for you because they contained cholesterol; but it now appears after this study that two eggs per day won't hurt."
I am sixty-four years young, I personally eat at least two eggs per day. I feel great, my blood pressure is great, I can still run and play with my teenage son and teenage grandchildren. Protein and cholesterol are two of the most important nutrients in your body, they make up most of your brain and muscle tissue. Eggs are the best source of protein and cholesterol. Jesus said they are good gifts. Two a day is a great foundation to a long and healthy life. Happy eating.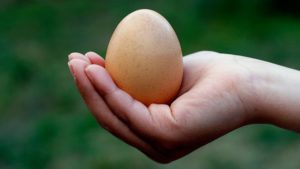 GOD  CREATED MAN. GOD CREATED FOOD.                                                   GOD KNOWS WHAT FOOD HE CREATED FOR MAN TO ENJOY,                         GOD KNOWS WHAT FOOD WAS NOT FOR MAN TO ENJOY, AND…                    HE HAS NEVER TRIED TO KEEP IT A SECRET.
 If you believe God knows best, join us and the Wellness Gospel team and spread the word, share this with your friends on social media and may God bless you richly.
If you want to keep improving your health and like this kind of biblical, scientific information, then I would like to recommend three must-read books.
"None of These Diseases" by S. I. McMillen, M.D. and David E. Stern, M.D.
"Let's Play Doctor" by Dr. Joel Wallach
"God's Guide To Biblical Health and Healing" by Rev. Chris & Shary Schauermann
You can get all these books at Amazon.com 
Tom Brewer "The no risk pregnancy diet" http://drbrewerpregnancydiet.com/id72.html
"Eat Right, Live Longer" by LeLord Kordell.
Lectures on nutrition and animal science, Clatsop Community College. Don Stangel
Wallach on eggs https://www.youtube.com/watch?v=g6vG4IhgWGE