Our Insurance agent leaked, "The Secret",  Health insurance companies don't want you to discover!
In 1973, Shary and I were newly married, had good jobs. We were managing a small golf course and were pregnant with our first child Leslie. So; it just seemed like it was time we acted like grownups and got health insurance.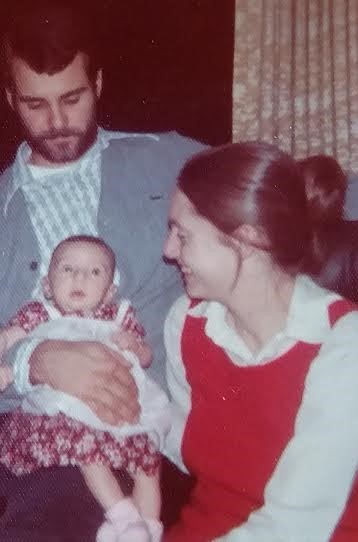 My Uncle Art Schauermann was our insurance agent, we had our car insurance through him but he also carried all kinds of other insurance products. So, we called him up and asked him to sell us some health insurance. He told us he would come right over to our house to discuss the matter. Evidently, he didn't want anyone in his office to hear what he was going to tell us.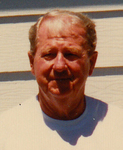 My uncle Art was a great guy, he and my dad had been partners in a couple of businesses. They were also close friends, we would go camping and water skiing together on a regular basis.  Uncle Art liked me, so maybe that is why he felt compelled to tell us "The Secret".
He told us he wouldn't sell us health insurance!
He sat down with us at our kitchen table and basically said he wouldn't sell us health insurance. I replied by saying something like," you're an insurance agent that sells health insurance, and you won't sell us health insurance, what's with that?"
He proceeded to tell Shary and I that health insurance companies were in business to make money, and lots of it. He said that virtually nobody wins in the health insurance game, except the insurance companies. Why? Because the game is rigged. It is kind of like going to Vegas; you're gambling that the insurance companies will pay out more in health coverage than you pay them. Vegas the longer you play the slots the more likely you are to come away with less mony.
People are often surprised at what their health insurance doesn't pay for!
First, the health insurance companies couldn't stay in business if they payed out as much as people paid in. Second, they have to pay for advertising, agents, adjusters, office help, skyscrapers, administrators and shareholders profits. Health insurance companies are some of the most profitable companies in the world. Why? Because they pay back a very small percent of what you pay in. You are gambling that they will pay more and they are gambling that you will pay more. So; they set the premiums very high, and do their best to limit how much coverage you get. Often people are surprised at what their health insurance doesn't pay for.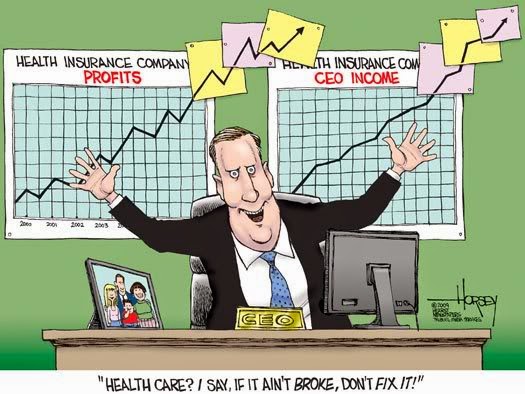 My uncle then told us that all of this is true for the average family. So; he said, if you are of average health you will loose big. But, if you take better care of yourself than most people you will be an even bigger looser. He suggested we take what we would pay in premiums and put that money in the bank every month, saving up for any medical expense we could have in the future.  He said it would be crazy for us to get health insurance
So how do we pay the hospitals and doctors if we haven't saved anything yet?
I told him that we hadn't saved anything yet so how would we pay the hospital or doctors expenses if we got sick or had a baby, something we were about to do.  Well, uncle Art continued, the hospitals and doctors will all take payments after you receive their services. Mind you,  those payments will be far less than the monthly premiums you would have been paying to the insurance company. Also the payments to the doctor or hospital stop when they are fully paid. The payments to the health insurance company never stop.
So, we took uncle Art's advice, and it turned out he was so right. Sharing, "The Secret" saved us so much money. It allowed us to live like normal people while raising 13 kids and living on a pastor's salary.
Since then we have learned even more about health care.
When hospitals find out you are paying for their services instead of a health insurance company, they will typically reduce the bill by 1/3. Why? Because they know that most people don't have unlimited funds like the insurance companies.
If Doctors and hospitals find out you will be paying cash they will often give you an even bigger discount.
Hospitals will not order unnecessary procedures and tests if they know you are paying for them out of pocket.  If an insurance company is paying they will order all the test your insurance provider will accept. (there is some research that suggest the more tests you get the more unnecessary procedures you get, that includes cancer treatments that are not necessary. My sister-in-law got chemo treatments by mistake, they later found that she never had cancer.)
So how did knowing "The Secret" about health insurance  pan-out for us?
Most of our children never saw or needed a doctor. The worst thing that happened was when our daughter Leah was riding a stallion bareback near our home. The horse was quite tall and a little unpredictable. He threw her off and she broke her arm. Like any good Christian, we prayed for her but it still hurt her badly. So, we took her to the hospital. Because we try to follow God's advice for healthy living, the doctors found that she had really tough bones. All she needed to do was put her arm in a sling for a while, the whole thing cost $425. All four of our hospital/doctor births together cost $1200, the rest of our births were at home, consequently they were free.
The hospital reduced the bill by $5,000!
A couple of years ago Shary had a number of symptoms that looked like a heart attack. We prayed and when nothing changed we rushed her to the hospital, they did tests and found that she was just fine. The doctor was actually mad that he couldn't find any problems with her heart. Her blood work showed she had no heart damage and was very healthy. He kept her in the hospital for about 11 hours anyway. The initial bill was $11,000, but when the hospital found out we didn't have  health insurance, and we would be paying cash, they reduced the bill to $6,000. So, over the course of 40 plus years we paid out less than $10,000 dollars in medical expenses for our entire family. Our premiums for those 40 years would have been more than $500,000.
My uncle Art's sharing, "The Secret" with us has changed our lives in many ways. The reason we are sharing with you is so you can make an educated decision about health insurance. Hopefully it will be of help to you and yours as well.

In Exodus 23:25-26 God said that if we obey his commandments, He will… "take away sickness  from among you" and that He will… "give you a full life span."
The Bible encourages us to "trust in the Lord", not in our money or our health insurance company. We have seen a lot of miracles, but even when we don't get a miracle, God has still been faithful to make the problems much smaller than we might have anticipated.
Often people have asked us how we raised thirteen kids on a pastors salary. Not buying health insurance was one of those ways. Obeying God's commands was another. Our favorite scripture during those years with all the kids was psalm 127:
Unless the Lord builds the house, the builders labor in vain.
Unless the Lord watches over the city,  the guards stand watch in vain.
2 In vain you rise early  and stay up late, eating the bread of anxious toil—
for he gives sleep to[a] those he loves.                                                                  3 Children are a heritage from the Lord, offspring a reward from him.
4 Like arrows in the hands of a warrior are children born in one's youth.
5 Happy is the man whose quiver is full of them. They will not be put to shame when they contend with their opponents in court.
There are always people who say, "I don't care about following all of that "health advice" I have health insurance, when I get sick, my insurance company pays for my surgeries, medications and my hospital bills."
It has been far more beneficial for us to have the Lord watch over us than any insurance company. We have been far happier with this plan than we ever dreamed.
Many people are not comfortable with this strategy and that's OK. Whatever you choose to do, you need to have peace. If you don't have peace your body will secrete chemicals that will undo all the exercise and good food you eat and any money you saved will be lost.
ONCE AGAIN, WE BELIEVE THE ONLY WAY TO EXCEPTIONAL EMOTIONAL AND PHYSICAL HEALTH, AND WELLNESS, IS TO SPEND TIME EACH DAY WITH THE GREAT PHYSICIAN, JESUS CHRIST!
If you have any questions or comments about this or any other Wellness Gospel article, please feel free to send an email to chrisschauermann@gmail.com. I would love to hear from you.
If you believe God knows what is best for us, join us and the Wellness Gospel team and spread the word, share this with your friends on social media and may God bless you richly.
To keep improving your health, and enjoy this kind of biblical, scientific information, then I would like to recommend three must-read books and the link to Youngevity, a wellness company founded by Dr. Joel Wallach. Simply click on the titles below for purchase information.