Arthritis!
According to the CDC (Centers for Disease Control), Mar 6, 2017 – "In the United States, 23% of all adults—over 54 million people—have arthritis. Arthritis is a leading cause of disability. The annual direct medical costs are at least 81 billion."  If you live a typical American lifestyle with a typical American diet, you will eventually contract some form of arthritis before you die.
Symptoms of arthritis are pain, weakness, aching, stiffness, and swelling, in or around the joints.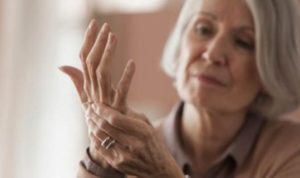 About 50% of US adults with heart disease or diabetes and 33% of people who are obese also have arthritis. Having arthritis and other chronic conditions can reduce the quality of life and make disease management harder.
The centers for disease control teaches people to cope with the disease and reduce it's effects. They do not believe you can beat the disease.   The CDC says, "people with arthritis can work and do other daily activities, have less pain, manage their own care, and delay disability." Did you get that "Delay disability!" Like being disabled with arthritis is inevitable. [1][2]
What does God Say About Arthritis?
Deuteronomy 7:11-15 "Therefore, take care to follow the commands, decrees and laws I give you today…     The Lord will keep you free from every disease"
If you are suffering from Arthritis, I have some great news for you! It is not inevitable, you can overcome arthritis. According to God's word, we are not going to simply live longer lives if we listen to God's instructions, we are going to live better lives, way better.
My experience with arthritis!
A few years ago, I ran a 200-mile relay race called Ragnar. It was an awesome experience. We ran south from Canada, along the Washington coast, the scenery was breathtaking. However, when it was over I felt pretty bad. My joints hurt and it took me a while to recover. When the next year came I decided that by training early on I would be better prepared. Instead I never fully recovering from the second race, and as a result I could not run without pain. My next plan was to  stretching more, but that didn't help either.  I did all the things I had done in the past to relieve joint pain and nothing worked. 
Another thing that I noticed was that I seemed to have lost a lot of strength. I still felt great otherwise, I jog/walked about 3 miles a week and did 120 push-ups a day, but I couldn't run like before. My office is on the second floor of our church, I used to run up the stairs each day. After the second Ragnar Relay, I just didn't have the strength to do it anymore.
Your just getting old, get over it!
Now someone might say, "you are in your mid-sixties, what do you expect?" I was starting to believe them, but I wasn't ready to completely give up. I decided to call my daughter Leah since she has a master's degree in health and nutrition. When I told her what was going on she suggested I take glucosamine. I said that I was under the impression that glucosamine was in Knox Gelatin. Although she agreed, she suggested that I might not be getting enough in the gelatin. So I started taking glucosimine and felt a lot better, but not 100%. So, fast forward a couple of years later. I start training for a seniors track and field competition held each year in Oregon. The more I trained the more I began to have the same old issues. It became unworkable on our anniversary this year.
An anniversary spoiled by arthritis!
Shary and I try to do something special for our anniversary each year. Our something special, usually includes sunshine, since we live in the darkest place on earth. My rain gauge recorded 181 inches last year. That is about 34 inches a month. It is so dark here that occasionally the street lights come on in the middle of the day. Well this year, February 14th  2017, we headed to Phoenix, Arizona to play in the sun.
Due to my recent inflammation I was miserable , I could barely walk and couldn't drive a car.  While in Phoenix, I went to two chiropractors, because the sciatica nerve in the back of my right leg was killing me. Both doctors told me the same thing; there is nothing out of alignment, it is probably some swelling in your knee that is pinching the nerve. The second doctor wouldn't even take my money, he said he couldn't help me, I begged him to try anyway, but he made me leave his office.  I was starting to walk like an old man, you know, shuffling a little and looking like my feet and knees hurt.

Again, people may say that this is a part of getting older. I am not sure how that works since one of my knees hurts a lot more than the other, and I am pretty sure both my knees are the same age. My answer to people who say age is the problem, and your answer should be; "there are people in their nineties who are still running marathons".  Age doesn't make arthritis inevitable. Somebody is going to be arthritis free, might as well be us.
Could arthritis be the result of a spiritual problem?
Psalm 31:9-10
9 Be merciful to me, Lord, for I am in distress; my eyes grow weak with sorrow, my soul and body with grief.
10 My life is consumed by anguish and my years by groaning; my strength fails because of my affliction, and my bones grow weak.
Psalm 38:3, 6, 8
3My body is unhealthy due to your anger, and my bones have no rest due to my sin.
6 I am bent over and walk about greatly bowed down; all day long I go around mourning.
8 I am weak and utterly crushed;  I cry out in distress because of my heart's anguish.
In both of these passages, weakness and bone pain are linked to sin. Weakness and bone pain are symptoms of arthritis and are also linked to grieving. We know that if we draw near to God, he promises to draw near to us and comfort us. If we have any unconfessed sin in our lives, a possible solution to our arthritis is to go to God and appropriate His forgiveness. He loves us and his desire is to forgive us; all we need to do is ask and receive.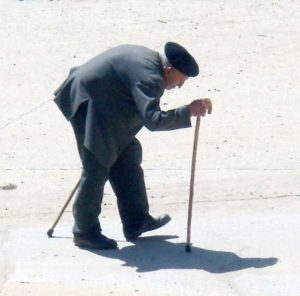 One of our church members!
We have a dear man in our church who was crippled, he was all bent over when he walked. At his baptism, he followed the advice in the passage below by confessing his sins. A few hours later he called me all excited, yelling that he could raise his arms over his head and that he was walking upright. That happened a number of years ago and he is still walking upright and going strong. That was obviously a miracle, but God is no respecter of persons and his word is true. Maybe you need to receive His forgiveness in order to be healed of arthritis?
1 John 1:7-9
7 But if we walk in the light, as he is in the light, we have fellowship with one another, and the blood of Jesus, his Son, purifies us from all[a] sin. 8 If we claim to be without sin, we deceive ourselves and the truth is not in us. 9 If we confess our sins, he is faithful and just and will forgive us our sins and purify us from all unrighteousness.
I believe that if we follow God's advice about sin and sickness, rest and exercise, food and forgiveness we can be disease free.  According to the Bible, Caleb was still able to go to war at 85. Don Pellman is still pole vaulting at 100, someone is going to live healthy past 100, might as well be us.[5][6]
Could I be missing some essential nutrient in my diet?
When we got home from Phoenix, I read everything I could about arthritis. Arthritis is a calcium deficiency disease, a co-factor for the absorption of calcium is   vitamin D. Our skin can manufacture vitamin D if it is exposed to sunlight.  People who live in darker climates like Astoria Oregon, don't get enough sunshine and tend to be low in vitamin D. Eating fish like the Bible recommends would probably solve the problem, since fish contain a lot of vitamin D. I realized how little fish I eat and decided to up my fish intake, I also took fish oil capsules. After a week or so I started to feel better but not great.
Another co-factor for calcium absorption is vitamin C, even though I take vitamin C, I don't usually get to 10,000 mg a day that Linus Pauling recommended. So, I upped my Vitamin C intake and again I felt a little better.
I ran out of glucosamine and just never got around to replacing it!
Something was still missing, then it dawned on me, I had run out of glucosamine about a year ago and never purchased more. I was desperate, we immediately went to Costco and purchased some. I continued to do all the other things and take glucosamine.
It worked so well I could hardly believe it, the last time I felt this good I was in my forties.  Now I am literally running up stairs, two steps at a time. Am I back to normal? No, I am feeling better than normal and stronger. I had no idea how weak arthritis could make you.  It is not just that people don't push themselves, because of the pain, arthritis short circuits your nervous system which actually reduces your strength.
Why do we need supplements? People in the Bible didn't have supplements.
I really think that if we lived in a sunnier climate we might not have this problem.  The climate God sent Abraham and Israel to live in was sunny enough to grow citrus fruits. It also had an abundance of fish, milk and honey.
If we ate more fish and boiled our bones like the bible suggests, we probably wouldn't need all the other supplements.  When you boil bones it releases calcium and cartilage material, including glucosamine. [7]
God recommends boiling bones for calcium rich, cartilage rich, soup stock.
Boil and eat the Passover meal at the place that the LORD your God will choose.
Ezekiel 24:3b-5
 'This is what the Sovereign Lord says: "'Put on the cooking pot; put it on and pour water into it. 4 Put into it the pieces of meat, all the choice pieces—the leg and the shoulder. Fill it with the best of these bones; 5take the pick of the flock.
Pile wood beneath it for the bones; bring it to a boil and cook the bones in it.
If you don't live in a place like Israel and you don't have time to boil your meat and bones, you are going to have to supplement. Here is what I did.
Prescription for reversing arthritis and getting your strength back!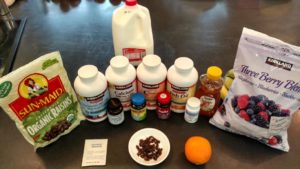 Chris's smoothie recipe. Put all these ingredients in a Nutribullet and blend for 60 seconds. Drink one of these each day for 40 days, then send me an email or comment on this blog post and tell me how you feel. This is my breakfast, I sip on it all morning. Sometimes it supplies enough nutrition that I don't get hungry till dinner. This also helps keep my weight under control.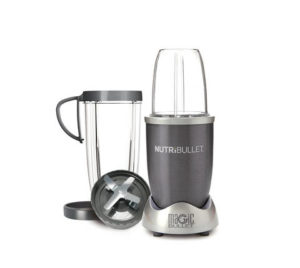 One tablet, with 1500 mg. of glucosamine and 1500 mg. MSM
600 mg Calcium + D3
10,000 mg tablets of Vitamin C
2 mg. copper
1000 mg of fish oil
353 mg. Krill oil (Mega Red)
10,000 IU of Vitamin A
400 IU of vitamin E
One packet of Knox Gelatin (cartilage material)
One handful of raisins (for iron)
Two Tablespoons of organic honey (to balance the ph)
¾ cup of frozen raspberry, blueberry, blackberry mix (for antioxidants)
¼ orange (for natural vitamin C)
Two raw eggs, you can use hard boiled if you like (see my blog on raw eggs) [8][9]
Fill the rest of the 2 cup size Nutribullet, with whole milk.
Raisins and honey can be increased to suit your taste, it sweetens the smoothie. Berries, Orange and milk can also be increased to suit your taste.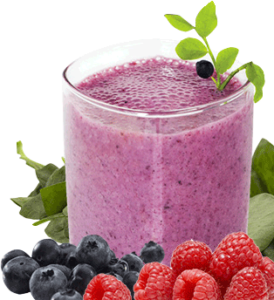 If you have any questions or comments about this or any other Wellness Gospel article, please feel free to send an email to chrisschauermann@gmail.com. I would love to hear from you.
If you believe God knows what is best for us, join us and the Wellness Gospel team and spread the word, share this with your friends on social media and may God bless you richly.
If you want to keep improving your health and enjoy this biblical view of scientific information then I would like to recommend three must-read books.
"None of These Diseases" by S. I. McMillen, M.D. and David E. Stern, M.D.
"Let's Play Doctor" by Dr. Joel Wallach
"God's Guide To Biblical Health and Healing" by Rev. Chris & Shary Schauermann
You can get all these books at Amazon.com
Arthritis   https://www.cdc.gov/chronicdisease/resources/publications/aag/arthritis.htm
Arthritis medicinenet.com/script/main/art.asp?articlekey=23220
Don Pellman pole-vaults http://wellnessgospel.net/index.php/2016/12/24/wholewheat-longevity-disease-free-living/
100 year old man pole-vaults http://www.titansreport.com/topic/19232-100-year-old-don-pellman-dominates-the-senior-olympics/
Glucosamine https://draxe.com/glucosamine/
Raw eggs http://wellnessgospel.net/index.php/2017/02/04/eggs-oldest-person-alive/