What is ADHD?
ADHD stands for Attention-deficit/hyperactivity disorder. According to the Centers for Disease Control (CDC), "ADHD is one of the most common neurodevelopmental disorders of childhood. It is usually first diagnosed in childhood and often lasts into adulthood. Children with ADHD may have trouble paying attention, controlling impulsive behaviors (may act without thinking about what the result will be), or be overly active.[1]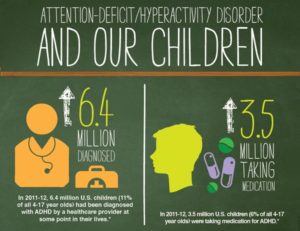 The above poster reports 2011-2012 data, but the incidence of ADHD is increasing.  According to the  most recent analysis, fully 20% of high school boys and 52% of all foster children in the United States today, have been diagnosed with ADHD, and the majority of those currently diagnosed have been treated with powerful prescription stimulants [3][4]
What are the symptoms of ADHD?
"It is normal for children to have trouble focusing and behaving at one time or another. However, children with ADHD do not just grow out of these behaviors. The symptoms continue and can cause difficulty at school, at home, in the community or with friends".
A child with ADHD might:
daydream a lot
forget or lose things a lot
squirm or fidget
talk too much
make careless mistakes or take unnecessary risks
find it hard to resisting temptation
have trouble taking turns
find it difficulty getting along with others"[2]
ADHD affects the ability to learn.
I had ADHD until I was in my twenties; my older brothers did not. They got straight A's in school, they were scholar athletes. Mike was valedictorian of his high school when he graduated, Tim was a mathematical genius. Tim and a coworker at Boeing developed a computer program you might recognize, it is now called Excel.
My brothers were great students, I on the other hand struggled to get B's and C's in school. School was torture for me, I felt like a pacing, caged animal most of the time. I remember one day looking out the school windows and watching a maintenance man mow the lawn, I would have done anything to trade places with him, forever.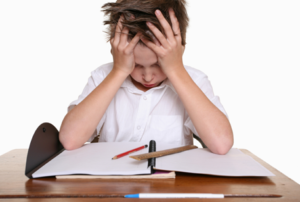 Often my parents or teachers would say that I just wasn't trying hard enough. I don't blame them, the reason they say this is because that is what it looked like from their perspective. Most people do not know how much it hurts an ADHD child to hear this. We are constantly asking ourselves why is life so easy for all the other kids. We try with all our might to concentrate and stay focused in class, but just can't do it. Other kids seem to whiz through their school-work with ease, while over and over again, we stay in from recess to get our work done. This is a terrible disease and any loving parent should do whatever it takes to help their child overcome it, and overcome it you can.
No matter how hard I tried!
I dropped out of college my sophomore year because I had some classes I just could not pass. No matter how hard I tried I kept having to drop classes because I was going to fail. I had one teacher beg me to continue, she said I was her best student, I told her that I had taken the class before and got stuck at the same place.  My wife Shary, would simply drink a lot of coffee so she could stay awake all night and cram for finals. Like most ADHD students I would drink coffee and fall asleep.
People with ADHD react to stimulants differently!
People with ADHD react to stimulants  in the opposite way that normal people do. Ritalin is a stimulant for most people.    I do credit ADHD for keeping me away from more addictive drugs. One time I spent a lot of money on some cocaine. I was told it would keep me awake and focused for a long time. The last thing I remember was snorting it, then I fell asleep immediately. I never took cocaine again, it just seemed like a very expense way to ruin an evening.
Ritalin or similar drugs are being prescribed for children with ADHD. They get some immediate relief, which makes the parents and teachers believe that this is the answer. The kids calm down from their normal hyperactive hyper-vigilant state and are able to focus. But this drug, like all drugs has some very nasty side effects.
Side effects!
One side effect for Ritalin is what we call shiners. Most kids who take Ritalin look like someone has been punching them in the face. Their eyes are all puffy underneath and they look like they haven't slept in weeks. This drug is also highly addictive, in order to get the same results they need to keep upping the doses. Eventually, the child is taking the maximum dose and is just as hyper as he or she was in the beginning. If you then try to take them off drug, they will experience terrible withdrawal symptoms, including ADHD that is worse than when they started.
Other side effects are stomach pain, nausea, vomiting, loss of appetite, vision problems, dizziness, mild headache, sweating, mild skin rash, numbness, tingling, or a cold feeling in your hands or feet; nervous feeling, sleep problems (insomnia); or. weight loss. [2] Sign me up, right? Most kids hate taking it.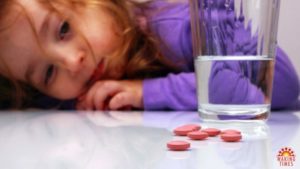 Most of the kids that come to our school taking Ritalin, hate it. They will try to trick their parents into thinking they took it when they haven't. We have even had kids run away from home in order to avoid having to take Ritalin. It is horrible to put a kid through this. I thank God this was not the way people dealt with ADHD when I was in school. I am glad I got the discipline that I received, rather than be forced to become addicted to drugs as a child like these kids.
ADHD effects almost every part of life.
One of my older brothers was a natural piano player, so my parents signed me up for piano lessons, thinking I would also be a child prodigy. I have to give my parents a P for persistence, they took me to four different piano teachers over a period of four years. I guess they thought the teachers were at fault because they failed to bring out my expected musical genius. It was torture for me, I practiced piano each morning before school and was failing miserably, I often walked to school crying. When I say fail, I mean that after four years of lessons, all I could play was chopsticks and I couldn't do that very well.
ADHD children tend to get into trouble a lot.
I got more spankings in school and out, than all my three brothers combined. During an unusually bad string of problems at school, my dad announced to me and the rest of the family that if I got in trouble at school again he would give me a doozy of a spanking. The next day my brother Mike tells dad that I got in trouble again at lunch time and that the principal made me stand out in the middle of the gym. I told dad that it wasn't me, really, it was a kid with a coat just like mine. And besides, Mike couldn't have positively identified me, I kept my back to him the whole time.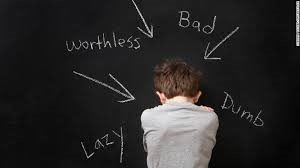 During those years I also had my run-ins with the law, I even went to jail a couple of times on alcohol and drug charges. Before I found Jesus, I always looked forward to being drunk or stoned, simply because it was the only time I really had peace.
Jesus made a difference!
After I rededicated my life to Jesus and changed my lifestyle, I went back to college. This time I got all A's and one B. I was given an award for being the top student in my major. I went on to manage a manufacturing plant for 15 years and started a K-12 school  and ran it for 25 years while pastoring a church. Oh, by the way, I haven't been in trouble with the law all these years either. There is hope for people with the disease of ADHD.
I must give Jesus credit for my recovery form ADHD. He became a huge part of my life and it was because of him that I found the answer to ADHD. He also gave me the power to do something about it. There are people who know what to do but cannot do it, simply because they do not have God's supernatural help like I did.
What do most modern doctors and physiologists believe is the cause for ADHD?
Scientist are blaming ADHD on poor genetics, but I and thousands of other people have beat ADHD without changing our genes. [1] You or your child can beat it too. Dr Joel Wallach says that children can turn this disease around in a week without drugs.  He and other doctors are having 100% success in reversing the negative effects of ADHD, without the use of dangerous medications.
What does God Say About ADHD and all Diseases?
Deuteronomy 7:11-15a
11 Therefore, take care to follow the commands, decrees and laws I give you today. 12 If you pay attention to these laws and are careful to follow them, then the Lord your God will keep his covenant of love with you, as he swore to your ancestors. 13 He will love you and bless you and increase your numbers. He will bless the fruit of your womb, the crops of your land—your grain, new wine and olive oil—the calves of your herds and the lambs of your flocks in the land he swore to your ancestors to give you.14 You will be blessed more than any other people; none of your men or women will be childless, nor will any of your livestock be without young.15 The Lord will keep you free from every disease"
 If ADHD is a disease, then God promises to set you free from it.
 Deuteronomy 30:8-9a
8 You will again obey the Lord and follow all his commands I am giving you today. 9 Then the Lord your God will make you most prosperous in all the work of your hands"
Most ADHD sufferers, would not consider themselves prosperous. Everything in my life was a disaster; I only began to prosper after finding Jesus and beginning to obey his instructions.
So what Biblical instructions can keep people from having ADHD?
And at the end of ten days their countenances appeared fairer, and they were fatter in flesh, than all the youths that did eat of the king's dainties.
Daniel and his friends refused to eat the king's dainties. These foods contained things that God's word says not to eat. In just ten days these Hebrew children were healthier than the kids who ate the king's food. The story goes on to say that they were smarter too.
Proverbs 23:1-3
 1When thou sittest to eat with a ruler, consider diligently what is before thee: 2And put a knife to thy throat, if thou be a man given to appetite. 3 Be not desirous of his dainties: for they are deceitful meat. 
In those days, Kings were the only people who could afford to eat refined foods. Most of the kings in the Bible lived very short lives. God says you might as well put a knife to your throat if you eat refined foods.
Sugar is the most dangerous of all refined foods. (Kings dainties)
When I was going to school and taking piano lessons, I was also eating cold cereal for breakfast every morning. To make matters worse, I put so much sugar in my already sugar loaded cereal, that when the cereal was gone, the bowl was still ¼ full of sugar. This was my favorite part, I scooped up the straight sugar and headed in to the living room to desecrate the art of music. According to Dr. Joel Wallach, sugar is the #1 reason for ADHD.
Could I be missing some essential nutrient in my diet?
Another doctor on the east coast who has 100% success with ADHD, gives all his patients Chromium and Vanadium and forbids them to have any form of sugar. Today sugar is in nearly all processed food.  READ YOUR LABELS.  It comes under a wide variety of names, (sugar, brown sugar, corn-syrup, high fructose corn syrup, malted corn, maltose, sucrose, dextrose, fructose, lactose, dried molasses etc…)
At the turn of the century the average American consumed one to five pounds of sugar each year.  Today the average American consumes approximately 135 pounds each year. That's almost 100 times more sugar than a century ago. It is no small wonder why our ADHD rate is so high.
The book, "Rare Earths: Forbidden Cures", by Dr. Ma Lan and Dr. Joel D. Wallach, documents the undeniable correlation between sugar and dangerous criminals. Jack the Ripper, Kip Kinkel, the Columbine shooters and the Sandy Hook shooter were all heavy sugar eaters. And all of them except Jack were also on Ritalin.
Are there other practical things ADHD children and adults can do?
The answer is a resounding yes! A number of recent studies have proven that exercise helps people with ADHD to be calmer and able to focus longer. One study improved a  4 year old child's attention span from 3 seconds to 60 seconds. What did they do? They regularly let the little boy exercise and burn off some of his pent up energy. Can you imagine trying to learn, when you can't focus on one thing for more than 3 seconds. [2] When I started playing organized sports my grades improved. I felt better and school was easier, not great, but better.
Dr. Joel Wallach's recipe for 100 % reversal of ADHD symptoms.
Remove all sugar products from you or your child's diet.
Take Chromium and Vanadium or take Youngevity's 90 essential vitamin and mineral supplement each day. (Youngevity's 90, contains Chromium and Vanadium)
Eat at least two eggs per day. (Eggs are brain food)
Take two fish oil tablets each day.
Get some kind of vigorous exercise at least three times a week. (soccer, swimming, basketball, track, hiking)
If your family has never tried something like this you will need divine help. Changing our diet is one of the hardest things we can do. But, oh, the benefits of lining up with God's word. Even though it will be hard, God will help if you ask him. I would suggest a lot of prayer each day. Jesus said…
Luke 11:9-13
9 "So I say to you: Ask and it will be given to you; seek and you will find; knock and the door will be opened to you. 10 For everyone who asks receives; the one who seeks finds; and to the one who knocks, the door will be opened. 11 "Which of you fathers, if your son asks for a fish, will give him a snake instead? 12 Or if he asks for an egg, will give him a scorpion? 13 If you then, though you are evil, know how to give good gifts to your children, how much more will your Father in heaven give the Holy Spirit to those who ask him!"
 I would specifically ask your heavenly father to give you his Holy Spirit. All through the bible the Holy Spirit gave people the power to overcome obstacles. You can do anything with God's help. Your kids are worth the effort.  God bless you as you obey him. Somebody is going to beat ADHD might as well be you!
Truly, the only way to exceptional emotional and physical health and wellness, is to spend time each day with the Great Physician, Jesus Christ!
If you have any questions or comments about this or any other Wellness Gospel article, please feel free to send an email to chrisschauermann@gmail.com. I would love to hear from you.
Do you believe God knows what is best for us, then join us and the Wellness Gospel team and spread the word, share this with your friends on social media and may God bless you richly.
If you want to keep improving your health and enjoy this kind of biblical, scientific information, then I would like to recommend three must-read books.
"God's Guide to Biblical Health and Healing" by Rev. Chris and Shary Schauermann                             http://tinyurl.com/zvkbfau
"Let's Play Doctor" by Dr. Joel Wallach                                                                                                               http://tinyurl.com/j8ybt8r
"None of These Diseases" by S.I. McMillen, M.D. and David E. Stern, M. D.                                            http://tinyurl.com/hh7ezs2
You can get all these books at Amazon.com or simply click on the URL next to each book title.
References
Ritalin side effects https://www.google.com/webhp?sourceid=chrome-instant&ion=1&espv=2&ie=UTF-8#safe=active&q=ritalin+side+effects
% on Psych drugs https://www.nimh.nih.gov/about/directors/thomas-insel/blog/2014/are-children-overmedicated.shtml
High school boys    https://www.psychologytoday.com/blog/sax-sex/201304/why-not-just-put-all-the-kids-medication
ADHD and exercise http://journals.sagepub.com/doi/abs/10.1177/0145445504267952