Childbirth part V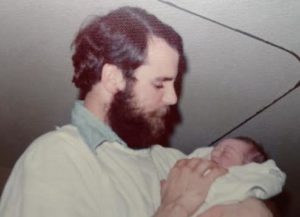 When second stage labor hit, I was in for a shock!
Childbirth. At the ripe old age of 21, my wife Shary, had just pushed our first child out and the nurse or doctor, I can't remember which, handed Leslie to me. Now I must explain who I was in 1973. My best friends gave me the nick name Stony, why, because I was pretty much a flat-line of emotion. It wasn't that I had a stony heart, I just didn't ever get real happy and I never cried. But when they handed Leslie to me and she was literally seconds old, she looked me in the eye just like you would if you were trying to read me. She and I communicated with our eyes and she got to me; I cried like a baby. It was kind of like when Jim Carry playing the part of the Grinch says, "What's happening to me? I'm feeling, and I am leaking."
Birth Bonding
There is a phenomenon in childbirth called birth bonding. It is powerful and it can happen to anyone who is at the birth. At Forest Grove Community Hospital, it was common for nurses to stay past their shift if a baby was going to be born. They just wanted to get that feeling and they didn't care if they weren't getting paid. Is it God in the room, or is it just the smells and sights? I don't know the answer to that question, all I know is that it's real. That is, if the mother, baby and father are not medicated in childbirth. Don't laugh, I have seen medicated fathers at birth, and it is not cool.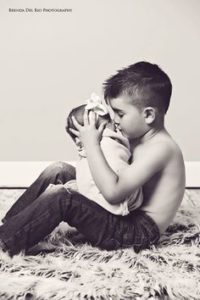 Bonding in childbirth has a lot of very valuable side effects. We had a family show up at one of our childbirth classes, they had already given birth and wanted to show off their new baby. When they came in, their son, who was about nine, was carrying the baby, he unwrapped it for us to see, he was so proud. His parents said that he was so loving and helpful with the baby that it was amazing to all who saw him. They said he would change diapers and hold his new sister any chance he got. This nine year old did not exhibit any sibling rivalry, which is almost universal among young children . Most kids treat the new arrival as competition; someone who is crowding out their time with mom and dad. This young man had been at the birth and got bonded.
My wife has witnessed just the opposite. Not only siblings but mothers who did not bond with their child. Right after a childbirth mothers will act like they don't even have a new baby. They would just as soon leave the baby in the nursery and do their own thing. Mothers who have been bonded can't get enough of the baby, this sure makes parenting a lot easier. People often ask us, "how did you do that, how did you give birth to and raise all those kids? We just couldn't do it." I usually tell them that we wouldn't have done it either if we had to do it the way most people in America do it. Working with the way God created us is much easier than trying to do things the way the world does them.
Childbirth can be a wonderful experience!
Childbirth can be this wonderful thing, there is that potential, but it needs to be done God's way for that to happen. That means the less interference, the better. Many people believe that it is virtually impossible to safely have a baby without medicine, doctors and hospitals. We often emphasize that childbirth is not a disease, it is not a malfunction, it is how God planned for us to bring human beings into the world that were made in his image. Shary often says, "How do people think the human race grew to its present size? Women have been giving birth for thousands of years, without doctors." Someone at this point usually points out how many women died in birth a hundred years ago, and we will agree. But a hundred years ago, they were not doing it God's way either. Doctors who were carrying disease were infecting women with life threatening bacteria, women were giving birth flat on their backs; there is a better way.
The urge to push and getting baby in position.
The end of  transition in childbirth is signaled when the mother gets the urge to push. This is because the baby has moved down the birth canal and has engaged in the pelvis. Often medical people want to rush childbirth with a drug called pitocin. Pitocin is a synthetic replacement for a women's natural hormone oxytocin. At our second birth, Shary was given Pitocin. While siting with her, I read the drug insert. Seriously, it was simply because I was bored. But the more I read the more alarmed I got. There was a list of symptoms, the drug manufactures said if you have any of these symptoms, you absolutely should not take this drug, Shary had almost all of them. When we told our doctor, he freaked out and told the nurse to stop giving it to Shary immediately.
Pitocin makes the contractions harder which is supposed to making the baby come quicker. Shary said those contractions were very different than the normal contractions. Later at a childbirth seminar a pharmacist explained that pitocin just causes the uterus to squeeze. But oxytocin, God's hormone causes the uterus to squeeze and twist. The twisting motion is necessary to get the baby into the proper position to make it through the woman's pelvis. It is almost like God knew that the baby's head is an oval and the mother's pelvis is an oval and that rotating the baby would get the ovals to line up.
The practice of inducing labor to speed up the process.
Then there is the practice of inducing childbirth with drugs. Doctors persist in inducing labor when THEY feel that the baby is ready to be born. Ecclesiastes 2:2a  says, "There is a time to be born and a time to die" God knows when that time is. It cannot be improved on with drugs and scalpels.
Often inducing childbirth is done for the doctor's convenience. In Astoria, Oregon, in the late 70's, during a panel discussion with five doctors and five midwives, the topic was argued for some time whether or not artificially inducing labor was a good thing or not. The theory is that all babies need to be born nine months after conception, and that if they are in the mother longer than that, bad things will happen to the baby. Some cited that the placenta begins to calcify after nine months and presumably that would mean that the baby wouldn't be getting the nutrition it needed to be healthy. The discussion went back and forth till I asked two simple questions.
"How many of you have ever seen a baby harmed by inducing labor?" They all admitted that it was a common occurrence. Babies were born prematurely quite often, simply because the due date was miscalculated. In every case this became a huge financial burden on the family, as well as an emotional one. In many cases there was permanent damage to the child, and in some cases even death. But, they reasoned, it was a chance that had to be taken; because sometimes when you guess at a due date you get it wrong. Everybody makes mistakes, which is only human. Then I asked my last question which proved to be the last question of the day.
"How many of you have seen babies that were harmed by being left in the mother too long? There was a long uneasy silence in the room, no-one spoke, none of the doctors or midwives could think of a single case where the baby was harmed by being left in the mother too long. There was an accumulation of over 100 years of childbirth practice in that room, yet no-one could think of an account of a baby that had actually been harmed by being allowed to remain in the perfect environment of it's mother's womb till she naturally went into labor. Often times inducing leads to cesarean-sections. Cesarean-sections are dangerous. they are dangerous to the mother and child. First, cesareans are major surgery, cutting through some of the largest muscles in a woman's body. Secondly approximately one third of the babies born cesarean, get pneumonia because without the squeezing process of birth they are born with their lungs full of water. If that is not enough Cesareans are horrendously expensive.[3][4]
In childbirth, God thought of everything.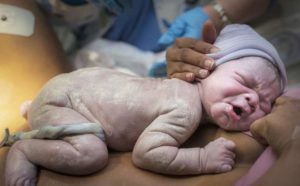 It gets even better. God made babies with plates in their heads that have not connected yet. The size of the baby's head can be bigger than the mother pelvis but the plates are able to slide past each other in order make the baby's head longer and narrower so it will fit through her pelvis. If that was not enough, God provided a hormone that would loosen the mother's joints so her pelvic opening could enlarge. That hormone also changes the molecular structure in the mother's perineum, (the skin and muscle opening the baby has to go through). It causes the tissue to become like Silly Putty. Silly Putty will break if you pull on it quickly, but if you slowly pull on it, it will stretch and stretch.  The mother's perineum will do the same if you slowly keep pressure on it. God thought of everything, we just need to work with him and how he made us. That cannot be improved upon with drugs, knives and machines.
Psalm 139:14 "I praise you because I am fearfully and wonderfully made; your works are wonderful, I know that full well."
We suggest a mother push when she feels like it and doesn't push when she doesn't feel like it. If she feels her perineum burning she should stop pushing and wait. This is where the birthing stool mentioned in Genesis comes in. If a women is lying on her back, almost all the pressure on the perineum is on the lower half her perineum. That half is required to do all the stretching. If a woman is on her back, the lower half of the perineum is always where she will tear. If she is upright and squatting on the birthing stool, there is even pressure on the entire perineum, thus making it much less likely for the perineum to tear.
What to do about the umbilical cord?
After the baby is born the cord will still be attached and pulsating. This is God's extra protection for babies. As long as the cord is pulsating the baby is still getting oxygen from the mother, even if the baby has not started to breath on it's own. According to new studies sited by the National Institutes of Health delayed cutting of the cord can lower a child's risk of low blood volume, anemia, cerebral palsy , autism , asthma and ADHD. [1] God did not miss anything, he even made the cord long enough that the baby can still be attached and reach the mothers breast to nurse. Why is this so important? Nursing causes oxytocin to be released into the mother's blood, which contracts the uterus, detaches the placenta and prevents unnecessary loss of blood.  The practice of clamping and cutting the cord before it stops pulsing on it's own is unnecessary at best, and extremely harmful to the mother and baby at the worst. [2]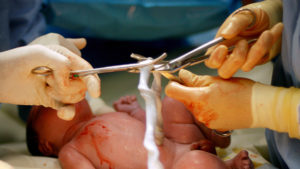 Often people mention that their baby almost died because the cord was in a knot. The cord is more like an electrical cord than a garden hose. It is extremely difficult to restrict the flow of blood with a knot. Most knots can easily be untied by a trained midwife or husband with a little common sense.
More benefits to bonding!
After the baby and the placenta have been born, it is important for the mother, father and siblings to spend some quality time with the baby. One to two hours is necessary for bonding to be fully effective. This is not a time for a big party it is better for the immediate family to be left to themselves. The more skin to skin contact the better, the quieter and more peaceful the better. Studies have shown that babies who have been able to bond up to one hour cry 500% less than babies that do not bond, and mothers who do not bond clean their babies 400% more than mothers who do bond with their babies. I am not sure I understand the cleaning thing but I do know that crying babies will drive you crazy, so maybe crazy moms clean babies as a form of therapy.
Seriously, we could never have given birth to and raised 13 kids without doing all the above. But by working with God's plan and design for birth we have been able to experience it as the blessing it was intended to be.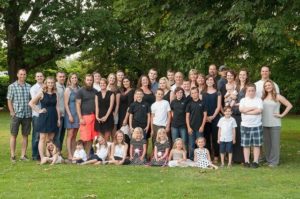 Next week we will discuss brestfeeding, sleeping and circumcision. Women who nurse their babies are much less likely to develop breast cancer and a multitude of other ailments. Babies are much healthier as well.
Childbirth series 
Part I       Nutrition
Part II     Nutrition and exercises for a more comfortable pregnancy and birth
Part III    First stage, what you believe about birth will determine how it goes.
Part IV    Transition
Part V      Second stage and post-partum.
Part VI     Nursing, sleeping and circumcision,
Part VII   The V approach to raising kids.
 Our purpose for writing each week is to provide you with Biblical/scientific advice on the care and feeding of your body.  We do it because this advice is rare. We also do it, because we see thousands of good Christians, whose lives have been cut short, simply because they were never taught what the Word of God and the Law of God had to say about health and wellness.
If you believe God knows best, join us and the Wellness Gospel team; register for our weekly newsletter, then spread the word by sharing this with your friends on social media and may God bless you richly.
If you want to keep improving your health, and enjoy this kind of biblical scientific information, then I would like to recommend three must-read books;
"God's Guide to Biblical Health and Healing" by Rev. Chris and Shary Schauermann                                                           http://tinyurl.com/zvkbfau
"Let's Play Doctor" by Dr. Joel Wallach                                                                                                                                                      http://tinyurl.com/j8ybt8r 
"None of These Diseases" by S.I. McMillen, M.D. and David E. Stern, M. D.                                                                    http://tinyurl.com/hh7ezs2
"Husband Coached Childbirth" by Doctor Robert Bradley & Marjory Hathaway                                      https://www.amazon.com/s/ref=nb_sb_ss_c_1_14?url=search-alias%3Daps&field-keywords=husband+coached+childbirth&sprefix=husband+coache%2Caps%2C314&crid=1UFTVMXOML1BS    
You can get all these books at Amazon.com or simply click on the URL under each book title.
 References
Umbilical Cord http://www.cbsnews.com/news/not-cutting-umbilical-cord-immediately-may-boost-babys-health/
8 reasons not to cut the cord early https://www.bellybelly.com.au/birth/reasons-not-to-cut-your-babys-umbilical-cord/
C-section   https://opinionator.blogs.nytimes.com/2016/01/19/arsdarian-cutting-the-number-of-c-section-births/?_r=0
C-section    http://www.consumerreports.org/doctors-hospitals/your-biggest-c-section-risk-may-be-your-hospital/