Childbirth that produces healthy moms and healthy babies!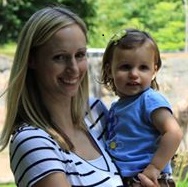 Childbirth! When Shary and I decided to get married, we agreed not to have any children of our own; maybe we would adopt. This decision came primarily because at the time, I believed in zero population growth. Add to that, Shary was always sick and didn't believe she could get pregnant. Even if she did get pregnant, her doctor had told her that she could never carry a baby full term. If you believe that genetics plays into this, her mother had lots of miscarriages, so genetically speaking, Shary's chances of having a baby were slim to  none.  But, as fate would have it, after changing our eating habits, Shary got pregnant and did not miscarry during that pregnancy, nor did she ever miscarry with any pregnancy.
Someone must have been praying for us, because we also had the good fortune to live only a few blocks from Forest Grove Community Hospital. At the time, Forest Grove Community Hospital was on the cutting edge of childbirth. They required couples to attend Husband Coached Childbirth classes if they wanted to deliver at Forest Grove Community. I will be sharing more about what that all entailed in Childbirth Part II. But suffice it to say, we had exceptional birthing experiences with our first two children. Later  they encouraged Shary to become a certified childbirth teacher, and we were employed by Forest Grove Community to teach their classes.
Shary and I started teaching Husband Coached Childbirth classes in 1976, subsequently, we taught non-stop for eighteen years and then off and on for nearly 22 more years after that. We have taught for hospitals, colleges and churches. We have done childbirth seminars in the U.S.  and abroad, at one point we even had our own childbirth association and trained childbirth teachers. I mention this to let you know that what I am going to share with you is not theory, it has worked for us, our children and our students for over 40 years. It comes from a lot of scientific research, personal experience, and is backed up by God's word, the Bible.
Over and over, we and others, including doctors and nutritionists, have been able to council pregnant mothers out of common childbirth diseases. Many of the common problems of pregnancy are easily fixed with nutrition and exercise. That is why it makes me so angry every time I hear of a woman who miscarried or I hear a commercial asking for more money to do research so we can "discover" cures for  the terrible problems associated with pregnancy and birth defects. Doctors and scientists have proven over and over again what it takes to have healthy babies and healthy mothers. We just need to get the word out, more research is not the answer to this health crisis, and believe me, it is a crisis.
 According to the Preeclampsia Foundation:  "Infant death is one of the most devastating consequences of preeclampsia. In the U.S., approximately 10,500 babies die from preeclampsia each year and an estimated half a million worldwide. Preeclampsia and related hypertensive disorders of pregnancy impact 5-8% of all births in the United States". "Worldwide, preeclampsia is responsible for up to 20% of the 13 million preterm births each year. Stillbirths from preeclampsia (babies that die in utero after 20 weeks of gestation) number between 1,000 and 2,200 annually in the U.S. Preeclampsia is diagnosed by persistent high blood pressure, trouble with the kidneys or liver, fluid in the lungs, or signs of brain trouble such as seizures and/or visual disturbances."
"Important symptoms that may suggest preeclampsia are headaches, abdominal pain, shortness of breath or burning behind the sternum, nausea and vomiting, confusion, heightened state of anxiety, and/or visual disturbances such as oversensitivity to light, blurred vision, or seeing flashing spots or auras" [1]
Not only is preeclampsia life threatening to the baby, but it can also be fatal to the mother. According to CBS News, "between 2000 and 2014, the nation's maternal death rate rose by almost 27 percent. For every 100,000 live births, nearly 24 women died during, or within 42 days after pregnancy in 2014. Federal health officials have already reported a spike in the nation's maternal (mother) mortality figures, the United States ranked 30th in a list of 31 countries beating out only Mexico.[2] Not only do we rank near the bottom of industrialized countries, but our death rate is getting worse each year while other countries death rates are getting better.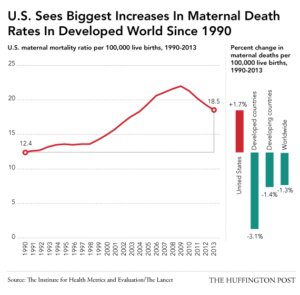 So what does God have to say about this?
God says that if we listen to him and follow his advice he will eliminate these problems.
Exodus    23:20-21, 25-26 "I am sending an angel (the angel of the Lord, Jesus) ahead of you to guard you along the way and to bring you to the place I have prepared. Pay attention to him and listen to what he says. Do not rebel against him…Worship the Lord your god and his blessing will be on your food and water. I will take away sickness from among you, and none will miscarry or be barren in your land. I will give you a full life span."
Here God promises that none will miscarry or be barren and they will have a full lifespan. If the healthcare providers in the U.S .payed attention to God and listened to what he said, the U.S. would have the best birth statistics instead of having the worst! OK, if you want to get technical, second to worst. We could eliminate preeclampsia, miscarriages, stillbirths and maternal mortality.
Deuteronomy 7:12– 12 If you pay attention to these laws and are careful to follow them, then the Lord your God will keep his covenant of love with you, as he swore to your ancestors. 13 He will love you and bless you and increase your numbers. He will bless the fruit of your womb, the crops of your land—your grain, new wine and olive oil—the calves of your herds and the lambs of your flocks in the land he swore to your ancestors to give you.14 You will be blessed more than any other people; none of your men or women will be childless, nor will any of your livestock be without young.15 The Lord will keep you free from every disease. 
Here God promises to increase our numbers and bless the wombs of our women more than any other nation. He promises that no one will be childless and he will keep us free from every disease. That includes preeclampsia and miscarries. Since the U.S. has approximately 4 million births each year, and 24 women die from preeclampsia per 100,000, obeying God would save almost 1000 mothers lives each year.[3] It would also eliminate about 26,000 stillbirths each year and [4]  approximately 800, 000 miscarries. [5]
So what has God said to us that would change all of this?
 God's word has encouraged us to eat eggs, salt and drink milk. [6][7][8] Check out these links for details.
Eggs        http://wellnessgospel.net/index.php/2016/10/29/heart-disease-alzheimers-eggs-depression/
Milk        http://wellnessgospel.net/index.php/2016/07/30/milk-nutritious-drink/
Salt         http://wellnessgospel.net/index.php/2016/09/03/stole-restaurant-salt-shakers/
We recommend that all our birthing mothers eat two eggs a day. If you don't like eggs, pretend they are large pills. We also recommend they salt their food to taste and drink a quart of milk each day. Those simple changes have reversed preeclampsia in women who had begun to show the symptoms of this disease.  This prescription has virtually eliminated any symptoms from women who began their pregnancy with this regime.
Preeclampsia is also called toxemia, (a self poisoning).  When doctors test women for preeclampsia, they will take urine samples and tell the woman she has too much protein in her urine, which is a sign of toxemia. Then she will be told to cut down on her protein intake. Actually, what they are detecting are amino acids that are being discarded by the body. Because most woman's diets are not rich in balanced protein, her body will kick out the excess amino acids. The result is that her body's mechanism for ridding itself of toxins is starved. That system needs a lot of protein and it isn't getting it. Shary has been able to help virtually every mother who has come to her, getting them to up their protein intake by eating at least two eggs every day and adding other lean proteins.  Two eggs are the best source because eggs are a perfectly balanced protein.
Tom Brewer, the head obstetrician in a large hospital saw over 500 babies born each year. He recorded that one third of those patients, approximately 166 in all, had developed toxemia. In an effort to reduce the toxemia rate, he simply asked the women to eat two eggs and drink a quart of milk every day. After one year under the new plan, the hospital only recorded two cases of toxemia. One of the women had triplets, and he thought maybe she needed to eat four eggs a day. The other patient was mentally ill and they were never sure if she had followed the instructions. By simply adding two eggs and a quart of milk to these 500 women's diets, toxemia was almost completely eradicated. [12]
The March of Dimes has done extensive research to determine the cause of birth defects. As early as 1975 the March of Dimes was encouraging pregnant mothers to eat eggs, vegetables and drink milk. It was also stated that if pregnant mothers would avoid the temptation to restrict weight gain during pregnancy, and would instead, gain at least 25 pounds, they could virtually eliminate the chance of birth defects. If you take into account the weight of the baby, the placenta, extra blood, etc., this adds up to approximately 25 pounds. If a pregnant mother does  not gain at least this much weight she is literally starving the baby and is more likely to have a premature baby or birth defects. [13]
So, what about salt?
Salt is an essential nutrient. Asking people to eliminate salt from their diets is dangerous.  Dr. Tom Brewer demonstrates this fact in an article he wrote entitled, "No Risk Pregnancy Diet". Here are sickening facts:
Salt in Pregnancy
| | | |
| --- | --- | --- |
| | High Salt Diet | Low-Salt Diet |
| Toxemia | 37/1000 | 97/1000 |
| Perinatal deaths | 27/1000 | 50/1000 |
| C-section | 9/1000 | 14/1000 |
| Abruptio placenta | 17/1000 | 32/1000 |
–Adapted from Margaret Robinson. "Salt in Pregnancy," Lancet 1:178, 1958. 9b
Toxemia (a build up of poisons in the blood stream) is almost three times as high in women who restrict salt. Infant deaths are almost double.
 What to do in order of importance!
Eat two eggs and drink a quart of milk every day during pregnancy, continue to do this until you stop nursing or, if you want to remain healthy do it until Jesus returns. (If you have twins you will need to eat 4 eggs per day.)
Make sure you gain at least 25 pounds of weight during pregnancy.
Cut out soda pop, energy drinks, smoking, alcohol, drugs and candy.
Follow our "Baby steps to disease free living". Follow this link http://wellnessgospel.net/index.php/2017/01/28/5-guaranteed-steps-disease-free-living/
Next week we will talk a little more about nutrition and get into exercises that will make pregnancy much more enjoyable and birth much easier.
Childbirth series
Part I    Nutrition
Part II   Nutrition and exercises for a more comfortable pregnancy and birth
Part III First stage, husband coached Childbirth. What you believe about birth will determine how it goes.
Part IIII Transition
Part V   Second stage and post-partum
Part VI Nursing, sleeping and circumcision,
Part VII  The V approach to raising kids.
If you believe God knows best, join us and the Wellness Gospel team; register for our weekly newsletter, then spread the word by sharing this with your friends on social media and may God bless you richly.
If you want to keep improving your health, and enjoy this kind of biblical scientific information, then I would like to recommend three must-read books:
"God's Guide to Biblical Health and Healing" by Rev. Chris and Shary Schauermann                                                             http://tinyurl.com/zvkbfau
"Let's Play Doctor" by Dr. Joel Wallach                                                                                                                                                      http://tinyurl.com/j8ybt8r 
"None of These Diseases" by S.I. McMillen, M.D. and David E. Stern, M. D.                                                                      http://tinyurl.com/hh7ezs2  
You can get all these books at Amazon.com or simply click on the URL under each book title.
References
Preeclampsia, Toxemia  http://www.preeclampsia.org/health-information/faqs 
Preeclampsia http://www.cbsnews.com/news/death-rate-is-up-during-pregnancy-childbirth-in-u-s/
US birthrate  http://www.susps.org/overview/birthrates.html 
Still births https://www.nih.gov/news-events/news-releases/placental-pregnancy-conditions-account-most-stillbirths
Eggs  http://wellnessgospel.net/index.php/2016/10/29/heart-disease-alzheimers-eggs-depression/
Milk  http://wellnessgospel.net/index.php/2016/07/30/milk-nutritious-drink/
Tom Brewer "The no risk pregnancy diet" http://drbrewerpregnancydiet.com/id72.html
Weight gain   http://www.marchofdimes.org/pregnancy/weight-gain-during-pregnancy.aspx