Strained relationships can make you sick.
Hence the common phrase, "you make me sick". All kidding aside, researchers are finding that poor relationships can destroy your immune system.1   They have discovered that men and women, stressed about their relationships, produced 11% more of the stress hormone cortisol. High levels of cortisol can cause fatigue, weight gain (especially in the face, upper back, and torso), obesity (especially abdominal obesity), back pain, thin skin, low libido and swelling in the hands and feet. Those people with strained relationships also had fewer T-cells, which are vital to defense against infection.2 So what about our relationship with our Heavenly Father, can that cause a weakening in our immune system?                                                                                                                                                                                               Psalm 77:2-3                                                                  "In the day of my trouble I sought the Lord: my sore ran in the night, and ceased not: my soul refused to be comforted. I remembered God, and was troubled: I complained, and my spirit was overwhelmed."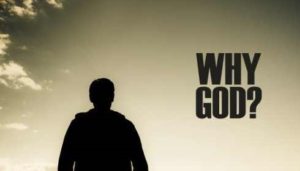 There are many things that effect our health and wellness, one often overlooked element, is our relationship with God our Father. When people become angry with their Heavenly Father, it will affect their health. God can handle our anger; he understands us better than we understand ourselves. But we need to have a healthy relationship with God, in order to have a healthy body. One of the most common reasons for people to be upset with God, is when they hold the belief that God controls everything and then bad things happen to them, or someone they love.
Last spring I was returning from a  Mission trip to Thailand, I had just found out that my wife's dad was dying, she had driven from Astoria Oregon, to Sacramento California, to be with him. I told her I would change my ticket and join her. On the flight to Sacramento, I happened to be seated next to a tall wiry young man from Germany.  He shared with me that he was being flown into Sacramento to be a disc jockey at a large night club event; I was impressed.  He asked me why I was traveling and I said I was joining my wife in the Sacramento area because her father was dying and I felt I needed to be with her. He then began to share  with me about his awesome Christian mother, who had died a year ago. He said that she passed away after a very painful bout with cancer. He also shared with me that he had fond memories of attending  church with her, but didn't go anymore. I asked him if the reason he didn't attend church, was because he was angry with God about his mother. He said that he just couldn't serve a God who would do such a horrible thing to a person like his mother, a beautiful person who loved God and served Him.
A devout teenage boy who attended our Christian school, recently died from a very aggressive cancer and shortly after that, a policeman in our community was shot and killed by a drug addict, leaving his wife and children without a husband and father. Many of our students were angry with God for doing this. Why? Because they have been told that God is in control, that God sends things like this to make us stronger. We even listen to and sing these words found in Christian music. Yes, God can and does take things meant for evil and turn them into good, but when children are taught that everything is predestined by God and everything that happens is God's will, it is a distortion of the truth. This unbalanced teaching is turning millions of people away from God.
In the book "Transforming Children into Spiritual Champions"; the famous researcher, George Barna, uncovers some alarming beliefs among our young people.
Approximately 75% of all young people believe the devil does not exist.
Approximately 66% believe that life is either a random series of acts, or predetermined by God.
The problem is two-fold, if there is no devil, then who is responsible for all the bad things that happen in this world? And the second is worse, if God is in control and God has predestined everything, then God is responsible for all the evil in the world.
A Relationship Killer
You see, if God has predestined everything, planned everything, and everything is going according to God's will; then it logically can be said that God planned for that young German's mother to suffer and die of cancer. And it was God's will for the police officer's children to be raised without a dad. And God predestined our young student to die in his teens. There are multitudes of people who are angry at a God because they believe He is responsible for molestations, rapes, murder and war.  But is that really true?
After sharing with the German entertainer, what I am about to share with you, he thanked me profusely, prayed with me, and said he would definitely be going back to church. I also shared with our students and teachers what I am going to share with you and they too were able to renew their loving relationships with our awesome God.
First, the statement, "God is in control", is not found in the Bible. So, let me show you how you can quickly and simply explain to yourself and others that none of this was God's will and that he has only wanted the best for you and me; there-by restoring your love for your Heavenly Father and your close relationship with him.
I am going to walk you through this just like I did with that young German entertainer. So take out a piece of paper and pen, (sorry, it is much easier than trying to do it on a smart phone) and follow these simple steps:
Draw two large circles beside each other on a piece of paper.
Draw a horizontal line above the circles and one below.
Draw a vertical line down the middle between the two circles, with the words, "The second coming of Christ" and "The day of the Lord", on that line.
Now write the word "Heaven" in the top left box and the word "Hell" in the bottom left box.
So what do you think the two circles represent?  Answer: earth before and after the second coming of Christ. Now write the words "first earth" on the left earth and "new earth" on the right earth. Do you believe God has everything in his control? Do you believe everything is happening the way God wants it to happen?   Most Christians would say yes.
Now finish this bible verse, "Thy kingdom come, thy will be done……..". Go ahead say it out loud.  Most people know the rest, "on earth as it is in heaven."
This famous Bible verse, is the prayer Jesus asked his disciples to pray. It is probably the most famous prayer ever been uttered.  "Thy kingdom come thy will be done on earth, as it is in heaven." Jesus was telling his disciples to pray that things would be on earth, the way they in heaven.
So, how it is in heaven? Write your answers in the top left box. (No sickness, no pain, no crying, no sin and no death.)
Now ask yourself if earth is experiencing the same thing as heaven. Answer: no. If Jesus wants us to pray that God's will would be done on earth like God's will is done in heaven; then what God wants, is for earth to be like heaven. It is God's will that there be no sickness, no pain, no sin and no death on earth? But there is sickness, pain, sin and death on earth. So the idea that everything that happens is God's will is incorrect. The idea that God has everything under his control, the idea that everything that happens to us and our loved ones is God's will, is false!
Write John 10:10 on the earth to the left "The thief (Satan) comes only to kill, steal and destroy, but I (Jesus) have come that they might have life and life abundantly."
It is Satan's will that is being accomplished all over the world these days. Satan is killing people and then trying to get people to blame it on God.
                                                2 Corinthians 4:4a                                                     " Satan, who is the god of this evil world, has made him blind."
 Ephesians 6:10-13
"Finally, be strong in the Lord and in his mighty power. 11 Put on the full armor of God, so that you can take your stand against the devil's schemes. 12 For our struggle is not against flesh and blood, but against the rulers, against the authorities, against the powers of this dark world and against the spiritual forces of evil in the heavenly realms."
Write on the left circle (Earth, War Zone) and explain that God's will is not being done on earth, instead it is Satan's will that is being done here. If God is in control and his will is what is being done, that would mean that it is God's will for people to be sick, to be murdered and raped. It would mean that it is God's will for some people to go to heaven and some to go to hell. But none of those things are true. Satan wants people to believe that God is responsible for all the evil that is happening on earth. Satan wants people to be angry with God.
2 Peter 3:3-4, 9-10, 13
"Above all, you must understand that in the last days scoffers will come, scoffing and following their own evil desires. 4 They will say, "Where is this 'coming' he promised? Ever since our ancestors died, everything goes on as it has since the beginning of creation."  9 The Lord is not slow in keeping his promise, as some understand slowness. Instead he is patient with you, not wanting anyone to perish, but everyone to come to repentance.10 But the day of the Lord will come like a thief. The heavens will disappear with a roar; the elements will be destroyed by fire, and the earth and everything done in it will be laid bare.  13 But in keeping with his promise we are looking forward to a new heaven and a new earth, where righteousness dwells."
See verse 9, why is God so slow in keeping his promise about the second coming of Christ? Answer: he wants everyone to come to repentance and he doesn't want anyone to go to hell. Are people going to hell? Answer: yes. Once again, on earth God is not getting his way, his will is not being done. He is God and he could force everyone to love him. But since he is a good God he will not force us to love him.
In Verse 13 we are told that there will be a new heaven and a new earth where righteousness dwells. At that time, things will be done on earth the way they are done in heaven. God will be in charge and his will is what will be done. Until then we are in a war zone, where Satan is in charge. We are to put on the whole armor of God and fight against Satan's will and plans.
Below is how your paper should look when you are done.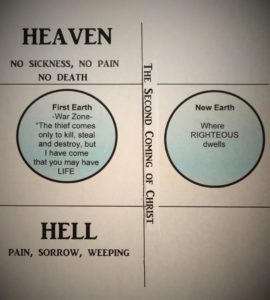 If the Barna Reasearch Group is correct about what our children believe, then we need to teach our children that there is a devil who's will is for us evil.  We also need to teach our children that until Jesus returns, we can resist the Devil and honor God with our prayers and actions. After the second coming of Christ we will spend eternity in a new heaven and new earth, where God's good will is accomplished every day.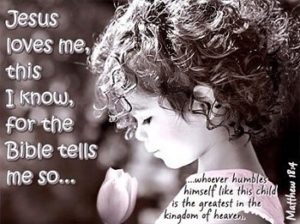 It is my hope that you, like so many other people can view God as the loving Father that he is. And by doing so you can restore your relationship with him. It has been my experience that when our relationship with God is right it will help all of our other relationships as well.
If you would like to dig a little deeper into this topic, her are a few more scriptures to look at.
·         Revelation 22:8-12                                       Ephesians 6: 10-18
·         Matthew 6:5-13                                            2 Corinthians 10:3-5
·         Hebrews 1:14 NIV                                          Daniel Chapter 10
·         2 Kings 6:8-23
If you believe God knows best, join us and the Wellness Gospel team and spread the word, share this with your friends on social media and may God bless you richly.
If you want to keep improving your health and like this kind of Biblical, scientific information, then I would like to recommend three must-read books.
You can get all these books by simply copying and pasting the link below each title.
a.       "None of These Diseases" by S. I. McMillen, M.D. and David E.                     Stern, M.D.                                                     https://www.amazon.com/None-These-Diseases-S-McMillen/dp/0800752333
b.      "Let's Play Doctor" by Dr. Joel Wallach               https://www.amazon.com/Lets-Play-Doctor-Ma-Lan/dp/0970149093
c.       "God's Guide To Biblical Health and Healing" by Rev. Chris & Shary             Schauermann                                                https://www.amazon.com/Gods-Guide-Biblical-Health-Healing-ebook/dp/B00VAS7C7A
References
1.       http://www.dailymail.co.uk/health/article-2280629/Being-anxious-relationship-make-ill–damaging-immune-system.html
2.      https://www.psychologytoday.com/blog/invisible-chains/201606/when-relationship-makes-you-sick
3.      http://universityhealthnews.com/daily/depression/how-to-recognize-high-cortisol-symptoms/
4.      Picture of angry couple http://lifenlesson.com/angry-dreams-interpretation/
5.      Why god? Picture https://aliciareagan.com/2013/08/18/why-god/
Jesus loves me picture http://indulgy.com/post/hSy5002Ha1/jesus-lo